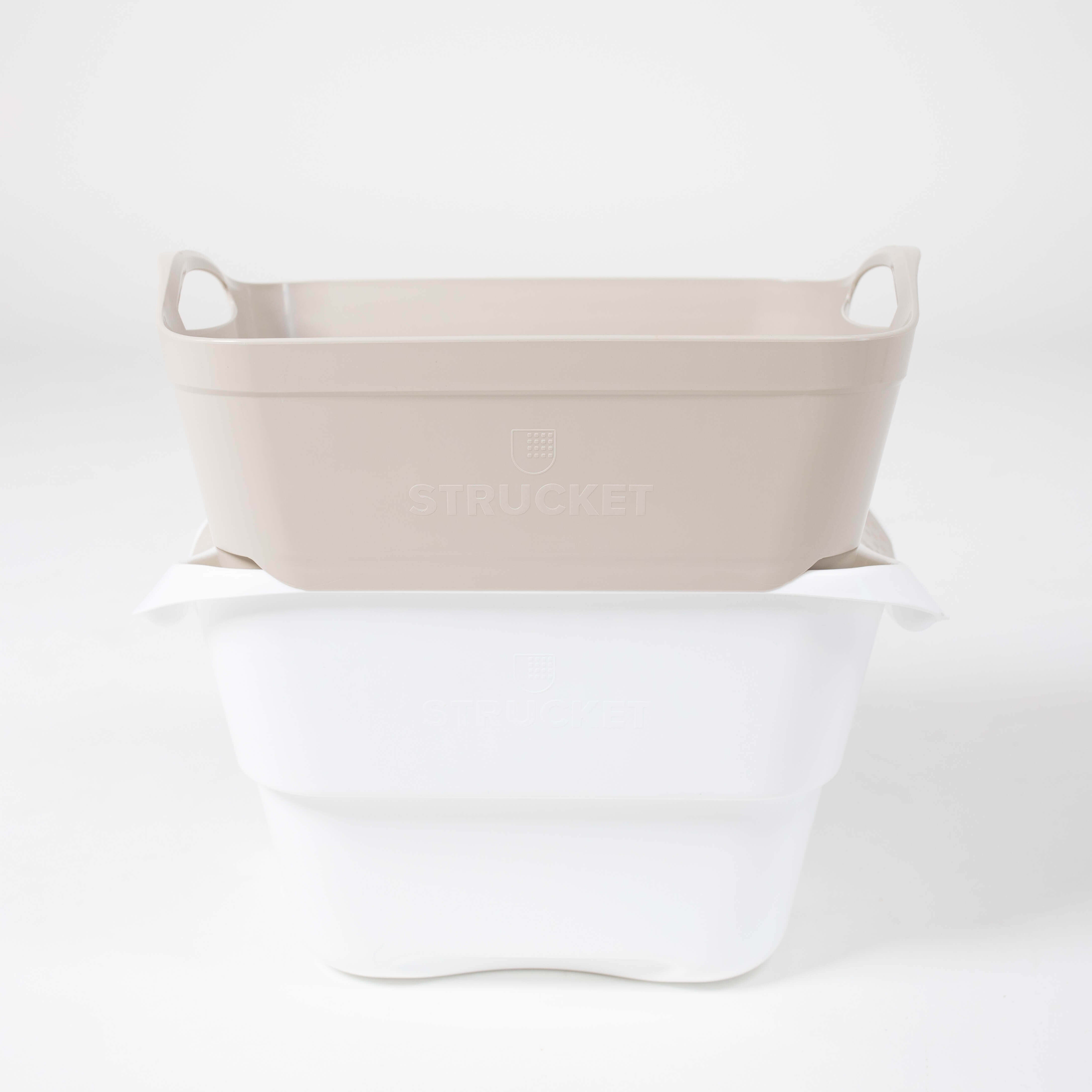 Strucket Dry Pail | Sand
---
Soak, Strain and Drain. Perfect for sensitive skin, the Strucket allows you to easily soak, separate and drain with our patented, world-first interlocking strainer and plug system. Your hands never, ever touch dirty (or smelly) water!
Designed to fit perfectly in your sink, it's simple to use - just soak, agitate, strain and drain:
Soak - Simply fill with water and the best agent for your desired cleaning outcome, and then walk away!
Agitate - Pull the strainer up and down to agitate your items and detergent hands free. 
Strain - Easily lift the strainer from the bucket, click into place and separate the soaked items, leaving the dirty water behind. Our famous interlocking connection allows your strainer to connect and elevate above the base of your Strucket.
Drain - Best of all, when the whole job is done, you just need to release the plug built into the base of your Strucket and watch your dirty water drain away. Your hands never have to touch the dirty, smelly water – perfect for sensitive skin!
Perfect for:
Cleaning clothes / laundry day

Washing fruit and vegetables

Cleansing kid's toys and products

Keeping food and drinks cold (use as an esky)

Gardening and watering plants
Dimensions:
44.5cm x 31.5cm x 27.5cm (LxWxH)
FREE Standard Shipping:
☀ Australian orders over $100

FREE Express Shipping:
☀ Australian & New Zealand orders over $200
☀ USA, CA, UK & EU orders over $250
☀ Rest of World orders over $300

You can return any items in original condition within 30 days of receiving.
---
---
FAQ
Industry standard recommends "dry-pailing" for used cloth nappies. A dry pail is a term used for an open aired bucket storage system which allows maximum aeration of your items until machine-wash day. Preferably a strong reusable plastic option allowing you to regularly also wash your dry-pail alongside your nappies.
See More
We recommend storing your dry pail in a highly ventilated and dry space, this will minimise any smells. We don't find any lingering smells and it is not a common problem. You may like to drop some essential oils in the base compartment of your Strucket where needed. 

It is not recommended to store your soiled items for longer than 2-3 days before machine washing.
Do I soak my reusables in the dry-pail?

In days gone by, cloth terry squares used to be soaked and bleached, sitting in buckets awaiting their main wash.

This practice is no longer supported nor encouraged for modern cloth nappies, as our machines will do the brunt of the hard work for us! 

Dry-pailing avoids your nappy storage becoming a breeding ground for bacteria, so the drier the storage solution - the better.
Do I need a dry-pail liner?

Using dry-pail-liners, also known as large wet-bags, are not advised as a storage solution for your nappies. Wet bags are for temporary storage of soiled items for upwards of 24 hours (Eg Day outings, overnight stays, day care etc). It is not advised to hold a bulk amount of soiling and damp items in a sealed environment for longer periods.